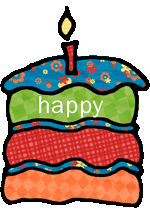 Today is my first
born's
birthday. It was 14 years ago today we were blessed with a beautiful baby daughter. She was 8 lb. 3 oz. and had lots of brown hair. The whole family came to visit us. She was the first grandchild born on both sides of our family.
K has a timid but sweet personality. She has always loved to make cards and is very creative. I can't imagine my life without her. She is going to be busy this year in high school. She is on the color guard for football season and back in the band afterwards as a flutist. Just this past Monday she had her first day of seminary. Seminary is a special scripture class the 14-18 year
old's
attend during the school year at our church. It is a test of their faith as it begins at 6:15 AM! Each school year they study a book of scripture. This school year it is on The Book of Mormon. Last year it was on The Old Testament. So K's Dad & her wake up around 5 AM every morning! What a great way to start out the day. =)
I have to say how blessed I feel to have her, as well as my other two children, in my life. We are learning this Mother/Daughter relationship together. I have looked forward to being able to share some parts of my life as a teenager with her when she was a teen herself. I think at this point, she indulges me and acts half way interested. :) It's okay, though...she is a teen. =) She could just roll her eyes and tell me to be quiet, instead she either is really listening or she is an excellent actress like her Mother. LOL! :)
We are waiting for her Dad to come home so we can cook her special birthday dinner, ravioli from the
Italian
market. A helped me put together some last minutes things for our family celebration while K was able to open up her first
facebook
account. This was a gift she wanted from us, "It's free, Mom."
To my daughter, know that you are loved immensely. You have family & friends who adore you, as well as a loving Father in Heaven who loves you. Continue to go forward with faith, choosing the right and enjoy your teenage journey. They will be some of the best years of your life! I love
you, Mom
Happy Birthday,
Shan